Editions
Doc-O-Matic is available in two Editions, each tailored to specific needs. This page aims to provide an overview over the editions.
Doc-O-Matic Professional
Doc-O-Matic Professional enables you to develop, manage and maintain both source code documentation and Help authoring projects. With its advanced management and QA features and its wide variety of output formats it is suitable for any kind of project, no matter how big.
This version supports C/C++, C#, Delphi, VB.NET, IDL, Java, ASPX, JSP, JavaScript, Matlab and PHP. Source code documentation can be done in-source and off-source, both Unicode and ANSI source files are supported.
Doc-O-Matic Professional makes it possible to create Online Help and printable documents from a single source. It supports PDF and RTF, Web Help/browser based Help, HTML Help, Help 2, Help Viewer and XML output. Documentation authoring and output design are completely separated. Targeting different audiences with multiple configurations in the same project using the same documentation sources has never been easier.
The quality assurance features of Doc-O-Matic Professional help you identify areas of possible improvements easily and quickly (the screen shot to the right shows the QA View). Projects can be partitioned into modules, projects can be interlinked and the class hierarchies help you find your way through them.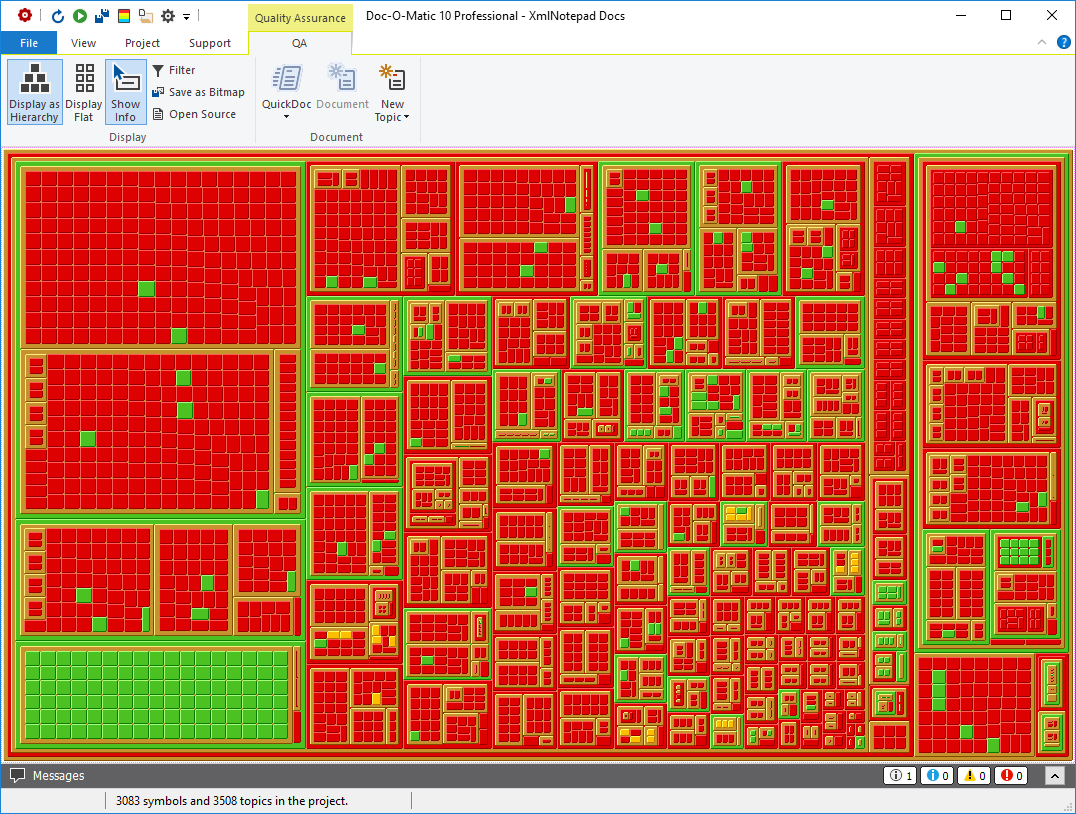 With Doc-O-Matic Professional You can…
Generate both Online Help, printable documents and portable documentation from the same source.
Help your audience better understand source code by providing information like class hierarchies and navigational overviews automatically and effortlessly.
Integrate the generated documentation into other systems like the Visual Studio Help System, Microsoft MSDN and Embarcadero RAD Studio Help, ensuring the same look-and-feel as the original.
Manage big projects and project clusters with master projects, project databases and modules.
Improve the documentation quality using the QA Manager QA related warnings.
Give technical writers easy access to source code and its documentation by providing a tool they can work with.
Use existing documentation with the highest possible amount of import flexibility.
Leverage the power and know-how of the industry's leading commercial tool.
Doc-O-Matic Author
Doc-O-Matic Author is the ideal Help Authoring Tool (HAT) for developing general Online Help, application Help, manuals and documentation of any kind.
It is a single source HAT featuring Web Help/browser based HTML, HTML Help, Help 2, Help Viewer, PDF, RTF and XML output. It comes with a rich feature set for authoring and management of projects of any size.
Project management features include a visual TOC designer that gives you full control over the exported topics, multiple configurations per project with different topic sets as well as a fully fletched integrated topic editor.
Authoring and text-reuse features include snippets, labels, text variables, automated snippet insertion, conditional text on character, section and topic levels and many more.
With Doc-O-Matic Author You can…
Author online Help, user manuals and all sorts of documentation including web pages.
Write all company documentation from read me files and flyers to large Help systems consisting of thousands of topics.
Generate fully cross linked documentation in fully customizable Web Help/browser based Help, HTML Help, Help 2, Help Viewer, PDF and RTF print documentation and XML output, all from one source.
Import existing information from HTML, text files and XML documents.
Reuse text with features like snippets, text variables and labels.
Completely separate the authoring process from the documentation look and feel design.
Tackle projects of any size with a clear, professional and easy-to-use user interface.
Work like you are used to with the integrated topic editor.